Although
Panama
had been on our radar as a place to go birding, it had never really been a burning ambition birding destination, perhaps largely because it is overshadowed by its northern neighbour
Costa Rica
and lacks the same high profile. Now, after a week based by the famous canal, I'd say that Panama has so much to offer and the birds seem so very cooperative that I rate it only second behind Ecuador as the best place we have been birding.
Most trip reports on the web are from birders based in one of the birder specific lodges, especially the Canopy Tower which has a justifiably excellent reputation. This report however is heavily biased towards birding based at the Gamboa Rainforest Lodge http://www.gamboaresort.com/index.html an upscale hotel which, for the average birder and especially one that has a family to take on vacation, is a pretty good choice.
We chanced upon an offer from Sell Off Vacations http://www.selloffvacations.com and got eight days at $1500CAN each, all inclusive, so for $3000CAN we had access to the World famous Pipeline Road and adjacent sites and the potential of the Gamboa Resort site's grounds, all within either walking distance or a cheap taxi ride and all food and drink pre paid, an opportunity not easy to refuse, read on..
Logistics
We flew with Sunwing, the holiday company which actually provided the vacation and services. The flight out was altered from direct to via Cancun, Mexico, a 45 minute lay up and not an issue, in fact it got us to the Gamboa at 16.00 instead of the early hours of Sunday which allowed a little balcony birding time and a restful night before plunging once more into the stimulating world of birding in the tropics. The return flight was delayed for an hour and got us back to Montreal at 08.00, a night flight of five hours which zipped past as we slept. The late departure from the hotel meant we had the full day to bird, the down side was that we were supposed to clear the room by 15.00. We negotiated an option, at a $50.00US cost, to keep the room to 21.00 which suited us well but should have been built into the price by Sunwing.
Driving
We didn't drive this trip, we normally do though and Panama would be challenging. Most routes seem to radiate out from Panama City and are reasonably well signed. Panamanians do not drive quickly in the city but they do drive erratically, there is no literal translation in Spanish for "lane discipline". If you intend to drive in Panama, be positive and patient, go where you need to go and don't dither and you should be fine. Out of the city driving is not a problem.
Bugs
We only used Canadian strength bug spray and only got mosquito bites when it had worn off. Chiggers are a different matter. We had planned to spray clothes and boots with a permethrin (?) based spray, then it got cold and snowed at home and we had no real opportunity to do it. This proved to be a bad idea and, despite caution as to where we went, we both got chiggered. What are Chiggers? well Google it for the gory details!!!!! Next time we will take pre-sprayed leech socks which should stop the little devils.
Health
No health problems related to food, you can drink the water (which can be an issue even in Canada) and there is no risk of malaria. Consult your country's health organisation for their latest panic and then ignore it, Panama is safe, health wise.
Weather
Hot, 31 degrees average. Rain was non-existent until the last day when we woke to a couple of hours worth, birded from the balcony and were out by 09.00 after breakfast.
Money & Officialdom
It costs $20.00US per person to get out of the country, you pay the nice person that checks you in for your flight, cash only (I think). We used US dollars throughout, nothing else was required. We passed through customs both ways quickly, although going in the airline gave us the wrong form and the customs people had to supply the right one. We were not stopped by the Police anywhere but did have to check in at Cerro Azul. Most sites have a fee for entry, on the Pipeline Road they collected it after we entered, Panama is very laid back that way. At the Rainforest Discovery Center they have a two tiered fee, $20.00US 06.00 to 10.00, $10.00US after. Obviously you will want the earlier time if you are a birder.
Guiding
Although the Gamboa offers trips out birding to the Pipeline Road, in all honesty they are not for the more serious birders, more for people interested in birds and a walk in the woods. The guides are no dummies but they do not have the level of skill required for the trickier species and they are not versed in the school of barely heard calls. We did one such trip just to get a feel for the site which was useful but, in hindsight, we would have been better taking a taxi down there and working it alone.
The Gamboa also does a free night drive, albeit in a noisy truck with a reverse beeper! We did two, the first one produced a surprise in the shape of a Black & White Owl, the second one only a White-lipped Peccary which was nice. As it is free it is worth doing a couple of times, just in case, Common Pauraque is almost guaranteed, even of the guide might not be so good at their ID and the guides say they see other owl species too but nothing is really staked out.
For a little professional help, and to expand our horizons, we pre-arranged guiding with Birding Panama http://www.birdingpanama.com/ and enjoyed two trips out with them. They collected us at 06.00 at the hotel and we had full days out as detailed in the sites visited section. Birding Panama is basically a small, local company, offering quality birding to virtually any Panamanian site. They are very professional, have a very comprehensive knowledge of Panamanian birds and all the bells and whistles that go with professional bird guides these days and, they are very good company too. We paid $130.US per person per day for transport, guiding and water, a price that reduces with more people to a maximum of eight. Thanks Jose & Mia.
Itinerary
12-Dec: Flew out from Montreal at , dumped the beach bums out at Cancun, Mexico and then flew on to Panama City landing at . Panama time is the same as Eastern Standard. The bouncy trip from the airport passes masses of birds. 32 species.
13-Dec: Birded the grounds of the Gamboa. Night drive around Gamboa site. 99 species.
14-Dec: Birded the first 2km of the Pipeline Road with the Gamboa guide, $35.00 each for three hours. Rest of the day birding the Gamboa site. 111 species.
15-Dec: Visited Metropolitan Park on the outskirts of Panama City, lunch downtown, visited a seafront area then finished off at Summit Ponds. 147 species.
16-Dec: Birded the Gamboa site. 114 species.
17-Dec: Visited Cerro Azul, several sites, lots of new birds, full day. 108 species.
18-Dec: Visited Rainforest Discovery Center and birded there and from there to the start of the Pipeline Rd. Birded the Gamboa site the rest of the day. 127 species
19-Dec: All day on the Gamboa site. 127 species.
References
There are several trip reports that we used but by far the best resource for the Gamboa area is 'Bird Species of the Gamboa Area' by Ken Allaire, http://www.gamboaecotours.com/gamboachecklistfull.pdf and also visit http://www.canopyreport.com/index.html for up to date info on recent sightings and more. Ken does not seem to have much time for the Gamboa as birder accommodation and I can understand that the cash spent there would be better in the pockets of smaller, birder specific outfits. While I agree with this, you take what you can although, 'next time' we'd like to try perhaps Canopy Lodge and or Ivan's B & B. Other Panama trip reports can be found here, and there is the excellent 'A Bird-finding guide to Panama' by Anghhr, Engleman & Engleman available. Many thanks to all who took the time to pass on their information especially Ken.
Our field guides were the standard 'Birds of Panama with Costa Rica, Nicaragua and Honduras' by Ridgely & Gwynne Jr. And for the field we took 'The Birds of Costa Rica' by Garrigues & Dean. For future trips I intend to take digital photos of better illustrations of the trickier species and make a small field guide out of those 6x4 photo papers 'free' with every multi pack of photo inks. We did this in Ecuador with the field guide and it worked well.

The animal guide used was 'A Field Guide to the Mammals of Central American and Southeast Mexico' by Fiona A Reid. They sell a nice little fold out guide to some of the many butterflies at the Gamboa and the Rainforest Discovery Center.
We downloaded a checklist from the web but it was missing birds such as Black Skimmer and Blackpoll Warbler so you might want to double check them, we made our own day by day checklist and did a log each evening after giving the Pauraques a chance to appear as a heard day tick at least.
Kit
Aside from the obvious two pairs of bins (plus 1 pair back-ups) we took a spotting scope (I hate the word spotting) and a lightweight carbon tripod. Digiscoping equipment, a Canon D50 with IS 100x400mm lens, Panasonic camera (Sandra's), umbrellas, wet bags for downpours, sun block, bug spray, a small towel, water bottles, hats. All this stuff went out with us most days although we did leave the scope 'home' a few times. I hate carrying backpacks and have struggled for years to find a side bag that would best serve. I find the Eagle Creek range of bags available (in Quebec) from Sail http://sailbaron.com/ just right, I can carry the big camera and lens, batteries and cards, water, digikit, notebook, ipod & speakers and wet bag all in one compact unit. Sail also sell those excellent shirts from the makers Columbia which are ideal for the tropics.
One useful tool we use which is relatively new on the market is the Remembird http://www.remembird.com/ We also had the obligatory ipod with speakers loaded with our entire North and South American birding sounds and extras from Xeno Canto. I don't know whether its me but when I get sounds from Xeno Canto I just listen to everything I want then go through Internet Explorer properties, view files, sort as MP3, edit then add to the ipod, there might be an easier for the more computer savvy but my way works ok.
With the Remembird it is possible to dictate notes with one speaker or record singers with the other. The quality is pretty fair and, with the right bit of wire, you can replay the sound back to the mystery singer in the field. Although we carry the ipod kit on all trips, we have rarely have used it in the field before. In Panama we tried a bit more tape luring with some of the trickier birds, just the odd short burst to get their attention really. The best reaction was from Song Wrens who needed little encouragement to blast out their incredible song. Personally I don't like to see over use of tape luring, I try to act responsibly, our guides from Panama Birding I thought were very responsible in their use of the ipod.
Sites visited
Metropolitan

Park
Tropical forest inside the boundary of a major city is rare, Metropolitan Park is rather special and so under used by the local populace that it is an ideal place to go birding. We birded the low area by the parking entrance of the Mono Titi trail and then worked our way up to the summit for panoramic views of the city. We made our way back along a rougher trail arriving back where we'd parked. The birding was pretty good with a couple of flocks located and great views of a singing Rosy Thrush Tanager on a low branch. Near to where we accessed is the ranger station with washrooms.
Summit
Ponds
Situated just off the road to Gamboa, the ponds were visited on the way back from the Metropolitan Park trip. They are fairly small pools surrounded by forest. The track along from the parking area is pretty birdy also, passing through some rough agricultural area and secondary growth.
Panama City
sea front
While most people go to the tropics to see the forest species, we also wanted to do a bit of birding along the sea front. After the morning at Metropolitan Park, and a good lunch at Niko's Cafe on the way, we ended up in an area of new development where a stream emerged into the sea. The tide was rising and the bunds of silt build up either side of the outfall were heavy with birds. Offshore boobys were fishing and the rising tide mean that the birds were constantly being shunted further up the beach towards us. In ten minutes we added 17 trip ticks (and 1 lifer) to the list and it was nice to see some birds that we'd not seen for a few years again.
Cerro Azul
Rising to around 900m the birdlife around Cerro Azul is different from the low lying rainforest of the Pipeline Road area. In order to visit the area you have to be 'invited' by a resident, this was all arranged by Birding Panama and we were able to visit a few sites including the house and grounds (inc bathroom) of the former head of Panama's Audubon Society (called Birder's View, $15.00US each) where the hummer feeders held more new species and we managed to see White-tipped Sicklebill at flowering Heliconias deep in the forest.
Rainforest

Discovery

Center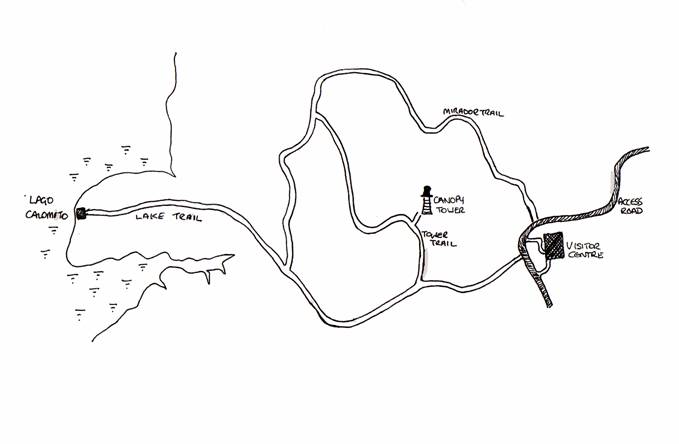 This fairly new 'park' (for want of a better word) lies .5km on a track to the left of the first barrier on the Pipeline Road (2km mark). It has a network of trails and a nice lake overview (scope useful). There is also a Canopy Tower (scope useful) which, at 100 feet high was a brown trouser job for me (but I still did it), Sandra liked it though. We were first up and saw distant Blue Cotingas and a few other blobs, on the way down some small-gull sized bats were swooping around the sub-canopy.
All of the trails are well maintained although, if you are watching a Tawny-throated Leaftosser and step back to change the angle, try not to shout arghh loudly as you fall like I did, the leg recovered after a few days! One big benefit of visiting the Discovery Center is the hummer feeders, they also have bathrooms, sell food and drinks, and have a few publications to sell.
The
Pipeline Road
Much has been written elsewhere about this place. We only birded 2 km which means that next time we need to go deeper. As previously mentioned, we did a Gamboa trip and were birding the first 2km from 07.00 onwards. We also did a trip ourselves, taking a taxi from the Gamboa to the Rainforest Discovery Center ($15.00US each way or $10.00 each way to the start of the Pipeline Road). We rode to the discovery center, birded the grounds and then walked back to the Pipeline Road entrance.
Gamboa Rainforest Resort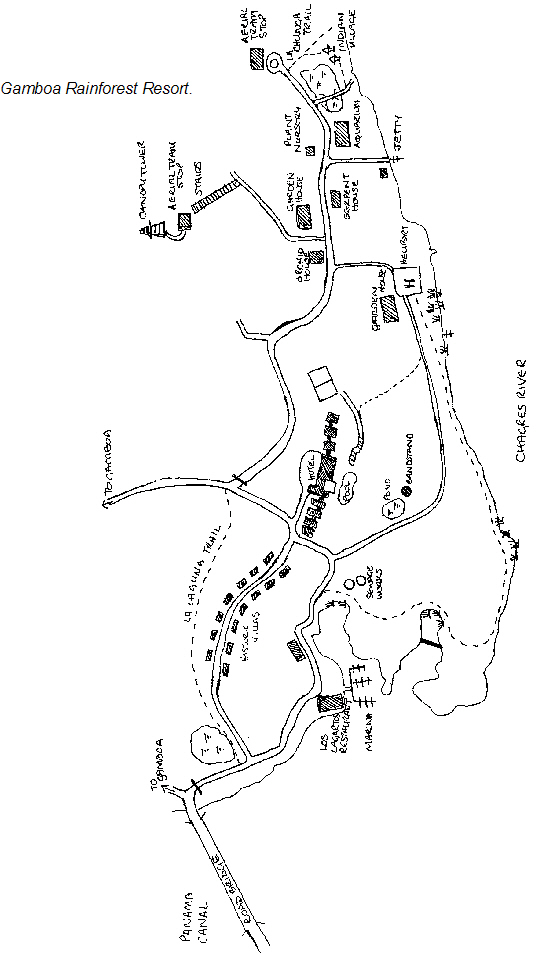 The resort itself is a former golf course with add ons. They have several places to eat, a bar, Internet access, a library, spa, pool and ping pong. The rooms vary, birders will want a balcony so should choose the deluxe riverview rooms, the renovated blocks which housed canal workers in years past are said to be nice inside but not so good for hot afternoon balcony birding because you don't get one.
The staff are friendly and, for the most part, efficient. The check in was quick, box breakfast and lunches supplied on demand and any questions answered satisfactorily. They organised our taxi to the Pipeline Road without fuss and pretty much left us to do our own thing around the grounds without pestering us. The meals are very good, the buffet system we used is perfect for birders and the breakfast runs so as it starts to get hot you can repair for your repast after a dawn start or, if you are lazy, you can eat and be out by .
The grounds are excellent, I may have said that before. They comprise of lakes and river (Chagres), hills, forest, open areas, scrub and swamp. There are a number of trails and we did not have the time to actually bird all of them fully but here is a breakdown of where we did go in a roughly anticlockwise direction when facing the river from the hotel frontage (and with estimated only kilometerage).
1, The resort entrance gate to the Marina road offers secondary growth and lakeside, both wooded and open, .75km, you can get a meal or take a drink at the lakeside restaurant, rest rooms are there and by the Marina.
2, From the Marina and around the edges of the Chagres River and inlets to the Helipad (field with H sprayed on but what the heck) you are walking on short grass for most of the way. We did most of this on the last day and found lots of birds just tucked away in the nooks and crannies of the lake edge. By following the contour of the lake edge it is possible to walk about 2km. There are two small modern sewage pools (birdless) and a pool in the open areas. Depending on the height of the river, there is a swamp deep enough to come up to the shoulder of a Capybara all around the edge of the lake including open areas with jacanas and crakes and even American Pygmy Kingfishers.
3, The Exhibits Road: There are small exhibits which can only be visited as part of a tour from the Gamboa. A Orchid house, Reptile house, some fish tanks etc, the road culminating at the Canopy Aerial Tram base. You pass through kept areas of grass and some good flowering trees, also by two man made swamps (Chunga Marsh) which I'll cover later, the road is around 1km long.
4, The Hill. Next to the Orchid house is a paved road which climbs steeply. At the top there is a track to the top station where the Aerial Tram stops, then a trail through the woods to a canopy tower, the views are great- its about .75k from bottom to top. Early morning when the tram is not running are the best times to bird here.
5, Sendero (= trail) La Chunga: As you pass a car park for the exhibits you come to a trail with small bridges and a causeway between two square marshy areas (Chunga Marsh), then some forest and trails which loop back to the road about 350m away. The trails we did are not very long but others seems to disappear into the darker areas of forest, we never really got past the Golden-collared Manakin lek, there were always lots of birds to look at. The Chunga Marsh has White-throated Crakes, they show at dusk from the causeway.
6, The road from the exhibits back to the hotel reception area. This section follows the road for about 1km, the hill and its forest edge rises to your right, the kept grounds are to your left. Part way along there is a trail into the forest, we did not get the chance to explore this one but our dawn visits to the area produced plenty of calling birds so they are in there.
7, Sendero La Laguna. This trail is a must, it follows a small stream through good forest to a set of pools. We only did it once and it was very birdy. It starts at the bend in the road down the hill from the hotel car park and emerges just past the complex road entrance checkpoint, it took us two hours to bird even though it is probably only just over 1km long. It would be a good trail to do at first light.
Birding from the balcony: Our room was 246. I would think that any rooms numbered 240, 340 or 440 onwards would suit birders best. The views are great and the balcony birding, for when you just need an hour with a cold drink, is pretty good. We saw or heard 88 species from our balcony and probably missed many more through our habit of going out birding all day. Just a note on the rooms, nice bathroom, sofa, desk, comfy bed, locked minibar, safe big enough for bins and scope etc which you put your own code into, coffee maker, TV (never used), closets etc, very comfortable. On the balcony you have a table, two chairs, a hammock and a sturdy rail so you don't plunge to your death.
Seen & heard
We saw or heard 256 species of birds which was a few more than anticipated but then the Gamboa resort was not that well represented anywhere so we had no idea how good or bad it would be. The final bird count for the Gamboa site only was over 170 species with a good few more surely possible at different times of year, we were told the site list is just over 200 species which seems low.
Butterflies and dragonflies abound in Panama but what surprised us was how many animals we saw. A total of 14 species of mammal were recorded including a brief Jaguarundi, two pigs and Capybara. Also a good number of lizards, iguanas, American Crocs and Cayman were to be found, no snakes though. The top animal seen by both of us was Geoffroy's Tamarin, incredibly cute, very inquisitive and self found at the Gamboa.
Some photos from this trip will be here.
Systematic list of birds seen & heard.


Species marked * were recorded from the Gamboa Rainforest Lodge.
The systematic list follows the most recent AOU list for convenience. Apologies if English spellings crept in.
Great Tinamou Tinamus major*
Heard daily around the Gamboa. We hiked the Hill one morning, taking the trail up to the base of the tower. Sandra went up, I sat at the base listening to the ipod, trying to sort out some of the songs and calls heard on the way up. I played both Little and Great Tinamou through the speakers a few times while I waited. We headed back along the trail to the Aerial Tram stop and a Great Tinamou started calling a few meters in from the track. We stood patiently and the bird just appeared about 5m away. We watched it for perhaps five minutes as it fed unconcerned by our presence before drifting away.
Little Tinamou Crypturellus soui*
Following shortly after the experience with the Great Tinamou we were birding the Sendero La Laguna at the Gamboa when a Little Tinamou called not far away, we whistled it in and it cautiously came very close before crossing the path and skittering away into the undergrowth. On our last day we were on the Sendero La Chunga trail with a slow moving flock. The arboreal birds had passed through when ant birds arrived. As we were watching a couple of White-bellied Antbirds a Little Tinamou popped up and fed around the same area, eventually settling down for a good preen. While trying to get into position for a picture a second bird came trotting along the path and then saw us, ducking quickly into the undergrowth and away. Although we have heard tinamous on most trips to the tropics, to actually see two species of tinamou very well was very rewarding.
Black-bellied Whistling Duck Dendrocygne autumnalis*
A few were around the Chagres River and also on a small pool n the grounds of the Gamboa.
Gray-headed Chachalaca Ortalis cinereiceps*
Common around the grounds of the Gamboa. There appeared to be a regular roost along the Sendero la Chunga trail.
Pied-billed Grebe Podilymbus Podiceps*
Two on the Chagres but distant.
Blue-footed Booby Sula nebouxii
On our first trip out with Birding Birding (15-Dec) we were taken to a river outflow in downtown Panama City. After enjoying picking through the shorebirds, gulls and terns I scanned the sea and saw what looked like an auk! It then occurred to me that we were actually seeing boobies, quite large numbers, just offshore and all actively feeding. I had not actually considered that there might be boobies but careful perusal revealed at least six showing the distinctive plumage of Blue-footed Booby. There were probably a few more but we were having a busy time and did not look beyond the first few.
Brown Booby Sula leucogaster
Present off Panama City as described above only in greater numbers.
Brown Pelican Pelecanus occidentalis
Common around Panama City. Hundreds seen on the drive from the airport to Gamboa, lots seen on 15-Dec while birding Panama City sea front.
Neotropic Cormorant Phalacrocorax brasilianus*
Common on the coast, a couple seen at the Gamboa.
Anhinga Anhinga anhinga*
Seen daily at the Gamboa, also seen at the Rainforest Discovery Center.
Magnificent Frigatebird Fregata magnificens*
Common around Panama City, odd ones drifted past the Gamboa.
Rufescent Tiger-heron Tigrisoma lineatum*
One seen twice was right out in the open. The first time it flew in by the Helipad and just crouched for a couple of minutes before nipping off into the marsh. The second time what was presumably the same immature fed in a small stream by the Orchid House at dusk. As we approached closer it sensed us and adopted the upright defensive posture, effective in reeds, rubbish for hiding when the vegetation is only two inches high.
Great Blue Heron Ardea herodias*
One or two around the Gamboa on several dates. One dirty looking bird at high tide on Panama City sea front.
Cocoi Heron Ardea cocoi*
One was around the Gamboa on three dates, feeding out on low vegetated islands in the Chagres River.
Great Egret Ardea alba*
Common.
Snowy Egret Egretta thula*
A few around the Gamboa.
Little Blue Heron Egretta caerula*
Common around the Gamboa with blue adults and white immatures about equal in number. A few were also at Summit Ponds.
Tricolored Heron Egretta tricolor*
One adult around the Gamboa, seen several times.
Cattle Egret Bubulcus ibis*
Seen on the trip from the airport, at Summit Ponds and occasionally in a small roost at the Gamboa.
Green Heron Butoroides virescens*
Common around the grounds of the Gamboa and at Summit Ponds.
Striated Heron Butoroides striata*
A couple were seen at the Gamboa. Interestingly they were always out on the vegetation islands which drift around the Chagres River, Green Herons were always in more enclosed areas such as the marsh by the Sendero la Chunga .
Boat-billed Heron Cochlearius cochlearius
Four at Summit Ponds roosting.
Wood Stork Mycteria Americana
Two in the Tocumen area on the way back from Cerro Azul 17-Dec.
Black Vulture Coragyps atratus*
Ubiquitous
Turkey Vulture Cathartes aura*
Ubiquitous
King Vulture Sarcoramphus papa*
A couple on one date from the balcony, soaring with the other vultures around the hills above the Chagres River.
Osprey Pandion haliaetus*
Common
Hook-billed Kite Chondrohierax unicatus*
While watching a small group of agitated birds in the marsh behind the helipad Sandra found a Hook-billed Kite watching the action from a low perch and presumably the cause of it. We had a good look at it before it slipped off. A couple of days later what was presumably the same bird drifted past the balcony.
Swallow-tailed Kite Elanoides forficatus*
One over the Gamboa during the late afternoon balcony watch, 13-Dec.
Snail Kite Rostrhamus sociabilis*
Seen daily around the Gamboa.
Double-toothed Kite Harpagus bidentatus*
Singles in Metropolitan Park 15-Dec & up the Hill in the Gamboa grounds, 16-Dec.
Plumbeous Kite Ictinia plumbea
One seen between the airport and the Gamboa on 12-Dec.
White Hawk Leucopternis albicollis
One from the birder's house at Cerro Azul 17-Dec, 40 feet overhead.
Gray Hawk Buteo nitidus*
The first bird we saw looked entirely white in the bright morning light and may have been leucistic but the tail pattern was normal. A second was seen upsetting things on the Chunga Marsh, 18-Dec.
Short-tailed Hawk Buteo brachyurus
One on the Metropolitan Park trip, 15-Dec.
Black Hawk-Eagle Spizaetus tyrannus*
One from the balcony, 13-Dec.
Ornate Hawk-Eagle Spizaetus ornatus
One from the Birder's House, Cerro Azul, 17-Dec.
Yellow-headed Caracara Milvago chimachima*
Common.
Bat Falcon Falco rufigularis
One from the Birder's House, Cerro Azul, 17-Dec. We later found out that there is a pair at the Gamboa but we never saw them.
Peregrine Falcon Falco peregrinus*
One from the balcony, 16-Dec.
White-throated Crake Laterallus albigularis*
Common and frequently heard calling from all the wet areas of the Gamboa. We tried tape luring but it did not persuade them to show so we just waited on the causeway of Chunga Marsh in the evening and they eventually showed well.
Gray-necked Wood-Rail Aramides cajanea*
Seen twice but never heard! The first two birds were around the Sendero La Chunga on 14-Dec. Another was around an inlet near the Marina, 19-Dec. When we played the song to it the bird stood on a log in the open and looked interested but resisted the opportunity to join in.
Purple Gallinule Porphyrio martinica*
Common at Gamboa, almost domesticated around the lakeside restaurant.
Common Moorhen Gallinula chloropus*
Very common on the Chagres.
American Coot Fulica Americana*
A couple seen on the Chagres on a few dates.
Sungrebe Heliornis fulica
This is a species we have looked for in many places without success. I asked Jose where we might try and he recommended the Rainforest Discovery Center but as early as possible after daybreak. When we visited the center on Dec 18 we were at the lagoon lookout, after doing the canopy tower, at about 07.00. We settled in to eat our box breakfast and there it was. It was much smaller than anticipated and just fed out on the floating weed banks a bit phalarope-like.
Southern Lapwing Vanellus chilensis*
Common at the Gamboa.
Black-bellied Plover Pluvialis squatarola
Around 60, Panama City, 15-Dec.
Wattled Jacana Jacana jacana*
Common in wetlands, very common at the Gamboa.
Spotted Sandpiper Actitis macularius*
Common. Lots off the Panama City sea front, 15-Dec.
Solitary Sandpiper Tringa solitaria
A few off the Panama City sea front, 15-Dec.
Greater Yellowlegs Tringa melanoleuca
Four off Panama City sea front, 5-Dec.
Willet Tringa semipalmata
C150 off Panama City sea front, 15-Dec. I did wonder whether these were western & eastern Willets.
Lesser Yellowlegs Tringa flavipes
One off Panama City sea front, 15-Dec.
Whimbrel Numenius phaeopus
Four off Panama City sea front, 15-Dec.
Marbled Godwit Limosa fedoa
Two off Panama City sea front, 15-Dec.
Sanderling Calidris alba
About 30 off Panama City sea front, 15-Dec.
Western Sandpiper Calidris mauri
Several large flock of calidrids were moving around Panama City sea front, 15-Dec, of the ones we go good looks at, only Western was identified.
Laughing Gull Leucophaeus atricilla
Common around Panama City.
Franklin's Gull Lecopheaus pipixcan
At least one seen on the Panama City sea front, 15-Dec.
(Lesser Black-backed Gull Larus fuscus)
During the Panama City sea front visit on 15-Dec I (MD) was scanning through the masses when a gull in first-winter plumage flew through the view and out towards a floating group of Laughing Gulls. I followed it and watched it land at the front of the group giving a good size comparison. It was clearly larger and bulkier than the Laughing Gulls and I could see no reason why, besides the obvious geography, it was not a first-winter Lesser Black-backed Gull. I managed to get Jose and Mia onto it and they saw it on the water. Sandra also got a good look before the constant motion of the gulls and other birds lost it from view.
During the flight view the most obvious feature was the solid dark tail band white base to the tail feathers but not clean white. The overall body color was dark with darker primaries, slightly paler head and paler under parts, the bill appeared all dark. The obvious species to expect would have been American Herring Gull but the tail pattern alone ruled out that species. Having seen many thousands of LBBG and hundreds of AMHG I stick by the ID.
As no detailed description can be supplied nor supporting photos the bird is placed in brackets here. I'd be interested in any comments on the ID or alternatives or to hear of any subsequent sightings of the gull.
Royal Tern Thalasseus Maxima*
Several along Panama City sea front. Singles most days around the River Chagres at the Gamboa.
Sandwich Tern Thalasseus sanvicensis*
Several off Panama City, 15-Dec. One around the Chagres River at the Gamboa, 19-Dec.
Black Skimmer Rhynchops niger
A couple were off Panama City sea front, 15-Dec.
Rock Pigeon Columba livia
Seen around Panama City when passing through.
Pale-vented Pigeon Patagioenas cayennensis*
Common, seen daily.
Ruddy Ground-Dove Columbina talpacoti*
Common at the Gamboa.
White-tipped Dove Leptotila verreauxi*
Common.
Orange-chinned Parakeet Brotogeris jugularis*
Common.
Blue-headed Parrot Pionus menstruus*
Not uncommon, usually seen as pairs going to roost in the evenings when upwards of 100+ parrots would fly through the Gamboa.
Red-lored Parrot Amazona autumnalis*
Common. As above
Mealy Parrot Amazona farinose*
Common. As above.
Squirrel Cuckoo Playa cayana*
Four seen, two very well along the Pipeline Road.
Greater Ani Crotophaga major*
Small groups seen around the Gamboa on a couple of dates.
Smooth-billed Ani Crotophaga ani*
Common in the open fields between the Airport and Gamboa. A few at Gamboa but not seen daily.
Black & White Owl Ciccaba nifrolineata*
We did a night drive (free) at the Gamboa on 13-Dec and were delighted to see a Black & White Owl for prolonged views in a tree by the slipway next to the Reptile House. The same bird was seen three more times by others on the night drives in the same week, in the trees between the initial sighting location and the Aerial Tram dock.
According to some of the Gamboa guides they also see Tropical Screech, Spectacled, Mottled and Crested Owl on the night drives occasionally.
Common Pauraque Nyctidromus albicollis*
Heard most evenings at the Gamboa, seen on each of the two night drives around the Aerial Tram dock, they just sit there while the guides point at them. On the first drive the guide called it a Common Nighthawk which is possible along with a couple of other species so take a good look at them.
Common Potoo Nyctibius griseus
A day roosting bird was seen at the entrance to the Mono Titi trail at Metropolitan Park on 15-Dec. The bird favours the trees before the metal barrier and is seen by standing with your back to the barrier and looking just below the canopy in the trees on the left. The guards know where it is and its probably worth asking or pointing to it in the book, if they show it to you buy them a beer, its all good PR.
White-collared Swift Streptoprocne zonaris
A couple were seen from the Birder's House at Cerro Azul on 17-Dec.
Vaux's Swift Chaetura vauxi*
Seen at Metropolitan Park and from the Gamboa Balcony where the dark buff rump was seen. Although the same size as Short-tailed and Band-rumped Swift, Vaux's always seems feeble and more fluttery than other Chaetura swifts.
Short-tailed Swift Chaetura brachyura*
Common, views from the Gamboa bar (top floor) allow comparison with Band-rumped when the regular swift flock drops below roof height. Structurally they look quite different too.
Band-rumped Swift Chaetura spinicaudus*
The commonest swift, seen well on many occasions.
Lesser Swallow-tailed Swift Panyptila cayennensis
Seen only at Metropolitan Park on 15-Dec and Rainforest Discovery Center, 18-Dec.
Green Hermit Phaethornis guy
Seen only at the Birder's House at Cerro Azul.
Long-billed Hermit Phaethornis longirostris*
Seen at the Gamboa on one date, Cerro Azul and the Rainforest Discovery Center.
Stripe-throated Hermit Phaethornis strigularis
One at the Rainforest Discovery Center, 18-Dec.
White-tipped Sicklebill Eutoxeres aquila
During the trip to Cerro Azul, Nando, who acts as a sort of caretaker at the Birder's House, mentioned that the Heliconias had started to flower and that White-tipped Sicklebill was now visiting. Following a short trek through the forest we arrived at the flowering area and got onto a sicklebill immediately. The bird fed steadily around the scattered plants before moving on. It seems that the Heliconia flowering season of roughly January to June is the reliable time to see sicklebills.
White-necked Jacobin Florisuga mellivora*
Common and seen regularly.
Violet-headed Hummingbird Klais guimeti
Seen on the Cerro Azul trip on 17-Dec.
Rufous-crested Coquette Lophornis delattrel
A female was regularly bullied by a Rufous-tailed Hummingbird at Cerro Azul, 17-Dec.
Garden Emerald Chlorostilbon assimilis*
A couple of sightings were noted around the ornamental flower beds of the Gamboa.
Violet-bellied Hummingbird Damophila Julie*
Common around the Canal area. Seen daily at the Gamboa.
Sapphire-throated Hummingbird Lepidopyga coeruleogularis*
Seen around Gamboa on 14-Dec and at the Metropolitan Park on 15-Dec.
Violet-capped Hummingbird Goldmania voliceps
Seen on the Cerro Azul trip on 1-Dec.
Blue-chested Hummingbird Amazilia amabilis*
Common around the Canal area. Seen daily at the Gamboa.
Snowy-bellied Hummingbird Amazilia Edward*
Fairly common throughout.
Rufous-tailed Hummingbird Amazilia tzacatl*
Common
White-vented Plumeleteer Chalybura buffoni*
Seen fairly regularly around the canal are
Bronze-tailed Plumeleteer Chalybura uronchrysia
A couple were seen on the Cerro Azul trip.
Slaty-tailed Trogon Trogon massena*
Common.
Violaceous Trogon Trogon violaceous*
Common.
Blue-crowned Motmot Momotus momota*
Common.
Broad-billed Motmot Electron platyrhychum
Two were seen along the Rainforest Discovery Center trails, 18-Dec.
Ringed Kingfisher Megarceryle torquata*
Seen daily around the Gamboa.
Amazon Kingfisher Chloroceryle amazona*
Seen at the Gamboa & Summit Ponds.
Green Kingfisher Chloroceryle Americana
Seen only at Summit Ponds on 15-Dec.
American Pygmy Kingfisher Chloroceryle aenea*
One seen at the Gamboa on 19-Dec.
Collared Aracari Pteroglossus torquartus*
Common.
Yellow-eared Toucanet Selenidera spectabilis
Heard only at Cerro Azul
Keel-billed Toucan Ramphastos sulfuratus*
Common
Chestnut-mandibled Toucan Ramphastos swainsonii*
Common.
Red-crowned Woodpecker Melanerpes rubricapillus*
Common.
Cinnamon Woodpecker Celeus loricatus*
One with a good mixed flock along the Sendero La Chunga at Gamboa, 19-Dec.
Crimson-crested Woodpecker Campephilus melanoleucos
One by the entrance to the Rainforest Discovery Center, 18-Dec.


Tawny-throated Leaftosser Scierurus mexicanus
One closely scrutinized along one of the Rainforest Discovery Center trail, 18-Dec. We had hoped for Scaly-throated which would have been new for us!
Plain Xenops Xenops minutus*
Seen at several locations, fairly common.
Plain-brown Woodcreeper Dendrocincla fuliginosa*
One seen well on the Sendero la Laguna trail at Gamboa, 16-Dec.
Cocoa Woodcreeper Xiphorhynchus susurrans*
Common around Gamboa.
Black-striped Woodcreeper Xiphorhynchus lachrymosus
One on Pipeline Road, 18-Dec.
Streak-headed Woodcreeper Lepidocalptes souleyeti*
Seen on four dates around Gamboa, all in the same area so perhaps the same one or two birds.
Fasciated Antshrike Cymbilaimus lineatus*
Common around Gamboa.
Great Antshrike Taraba major*
Oh the frustration! One vocalized constantly along the Sendero La Chunga on 19-Dec. We played the tape, it never moved, we tried to work every angle under the tree, still couldn't see it so heard only!
Barred Antshrike Thamnophilus doliatus*
Fairly common around the open areas of the Gamboa.
Western Slaty-Antshrike Thamnophilus atrinucha*
Once we'd learnt the sounds we found them everywhere.
White-flanked Antwren Myrmotherula axillaries
A few seen along the Pipeline Road.
Checker-throated Antwren Epinecrophylla fulviventris*
Present on the Hill at Gamboa, common in the forests.
Dot-winged Antwren Microrhopias quixensis*
A common forest edge bird.
Dusky Antbird Cercomacra tyrannina*
Seen along the Pipeline road and on the Hill at Gamboa.
Jet Antbird Cercomacra nigricans*
Seen at Gamboa where the small creek runs behind Chunga Marsh, very responsive to tapes. Also found at the Rainforest Discovery Center.
White-bellied Antbird Myrmeciza longipes*
Common and easy to see at Gamboa. Heard elsewhere.
Chestnut-backed Antbird Myrmeciza exsul*
Common at Gamboa and along the Pipeline Road.
Spotted Antbird Hylophylax naeviodes
We only saw this at the Rainforest Discovery Center but heard it at several other spots along the Pipeline Road.
Ocellated Antbird Phaenostictus mcleannani*
Heard only at Gamboa.
Black-faced Antthrush Formicarius analis*
Heard at Gamboa and along the Pipeline Road on all visits. We had a terrific view of one along one of the Rainforest Discovery Center trails on 18-Dec which spent ten minutes preening in full view.
Brown-capped Tyrannulet Ornithion brunneicapillus
Heard only at Metropolitan Park, 15-Dec, they were high in the canopy, we were hot and knackered (trans 'tired').
Southern Beardless-Tyrannulet Camptostoma obsoletum*
Seen and heard at Metropolitan Park and Gamboa.
Yellow Tyrannulet Capsiempis flaveola*
Common around the Gamboa.
Yellow-crowned Tyrannulet Tyrannulus elatus*
Seen and heard at Metropolitan Park and Gamboa
Greenish Elaenia Myiopagis viridicata
One at Cerro Azul.
Paltry Tyrannulet Zimmerius vilissimus*
Fairly common and seen at most forest sites.
Scale-crested Pygmy-Tyrant Lophotriccus pileatus
One seen well at Cerro Azul
Pale-eyed Pygmy-Tyrant Lophotriccus pilarus
One seen well along the Pipeline Road, 14-Dec; one in Metropolitan Park, 15-Dec.
Southern Bentbill Oncostoma olivaceum
Common.
Common Tody-Flycatcher Todirostrum cinerum
Common
Black-capped Tody-Flycatcher Todirostrum nigriceps*
One at Gamboa on 14-Dec only, perhaps overlooked.
Olivaceous Flatbill Rhyncocyclos Olivaceous
One along the Pipeline Road, 18-Dec.
Yellow-olive Flycatcher Tolmomylias sulphurescens*
One along the Sendero la Chunga trail, 19-Dec.
Ruddy-tailed Flycatcher Terenotriccus erythurus*
Common, seen at most sites.
Sulphur-rumped Flycatcher Myiobius sulphurescens*
One along the Sendero la Laguna trail at Gamboa.
Eastern Wood-Pewee Contopus virens*
Calling birds at a couple of sites including Gamboa.
Tropical Pewee Contopus cinereus
One at Cerro Azul, 17-Dec.
Acadian Flycatcher Empidonax virescens
Several empids were seen but only one called sufficiently to identifiy it, one was heard, seen and recorded at the entrance to Pipeline Road, 18-Dec.
Bright-rumped Attila Attila spadiceus*
Noisy and vocal in the Pipeline Road area and at Gamboa, not seen though.
Dusky-capped Flycatcher Myiarchus tuberculifer*
Common.
Panama Flycatcher Myiarchus panamensis*
A couple were present around the Gamboa and we saw one at Metropolitan Park.
Lesser Kiskadee Pitangus lictor*
Common at the Gamboa, also at Summit Ponds.
Great Kiskadee Pitangus sulphuratus*
Common.
Boat-billed Flycatcher Megaryhnchus pitangua*
We only saw singles along the Pipeline Road and Gamboa.
Rusty-margined Flycatcher Myiozetetes cayensis*
Common.
Social Flycatcher Myiozetetes similes*
Common.
Streaked Flycatcher Myiodynastes maculatus*
Singles at the Gamboa on three dates.
Tropical Kingbird Tyrannus melancholicus*
Common.
Fork-tailed Flycatcher Tyrannus savana*
Always a few at the Gamboa, also seen on the trip from the airport to Gamboa.
Rufous Piha Lipaugus unirufus
One along the Pipeline Road, just before the split to the Rainforest Discovery Center, seen there 14 & 18-Dec.
Cinnamon Becard Pachyramphus cinnamomeus*
Fairly common in forest habitats.
White-winged Becard Pachyramphus polychopterus*
One, Gamboa, 19-Dec.
Masked Tityra Tityra semifasciata
One by the barrier through to Summit Ponds.
Blue Cotinga Cotinga natterii*
A distant male was seen from the Rainforest Discovery Center tower, 18-Dec. While enjoying a good mixed flock along the Sendero La Chunga at Gamboa, a largish bird flew in and then appeared to go crazy. It flew rapidly along a bare branch doing loop the loops in tight circles around it. The bird would then stop and peer around like a slightly quicker trogon. At the time we were not sure what it was but took photos and video, we thought it might be an immature Speckled Mourner as the plumage was sort of marbled and spotted for want of a better description. Back at base we consulted the field guide and realised it was a female Blue Cotinga. When we reviewed the video at home it can be clearly seen to snatch insects off the branch it was working, including a fairly large spider.
Purple-throated Fruitcrow Querula purpurata
Four were seen at the Rainforest Discovery Center, 18-Dec.
Golden-collared Manakin Manacus vitellinus*
What great birds. A very active lek was located along the Sendero La Chunga and was busy whenever we visited.
White-ruffed Manakin Corapipo altera
One at Cerro Azul, 17-Dec.
Lance-tailed Manakin Chiroxiphia lanceolata
We had great views of a male and female near the top of the Mono Titi trail at Metropolitan Park, 15-Dec.
Blue-crowned Manakin Pipra coronata*
Seen on a couple of dates at Gamboa along the Sendero La Chunga.
Red-capped Manakin Pipra mentalis*
Seen at Cerro Azul on 17-Dec and the Sendero La Chunga at Gamboa, 19-Dec
Scrub Greenlet Hylophilus flavipes*
Seen at Metropolitan Park, 15-Dec and around the Gamboa.
Tawny-crowned Greenlet Hylophilus ochraceiceps*
Common at Metropolitan Park and Gamboa.
Golden-fronted Greenlet Hylophilus aurantiifrons
Seen at Metropolitan Park on 15-Dec.
Lesser Greenlet Hylophilus decurtatus*
Seen at the Gamboa on a couple of dates, also at Metropolitan Park, 15-Dec..
Green Shrike-Vireo Vireolanius pulchellus*
A constant caller from all forests. Actually seen along the Pipeline Road on 14-Dec.
Black-chested Jay Cyanocorax affinis*
One at the Gamboa, 16-Dec.
Gray-breasted Martin Progne chalybea*
Tons were around the Gamboa, we didn't look at this group otherwise but saw martins daily.
Mangrove Swallow Tachycineta albilinea*
Common at the Gamboa and where ever there was water.
Northern Rough-winged Swallow Stelgidopteryx serripennis*
Common at the Gamboa, this and the next species day roosted en-masse in riverside trees allowing close approach.
Southern Rough-winged Swallow Stelgidopteryx ruficollis*
Small numbers of this species joined their northern cousins at their day roost at the Gamboa, allowing a nice and instructive comparison.
Cliff Swallow Petrochelidon pyrrhonota*
Two were present in the aforementioned swallow roost on 13-Dec but none after although we did not pay close attention to roosting swallows after the first few days.
Barn Swallow Hirundo rustica*
Common.
Black-bellied Wren Thyrothorus fasciatoventris*
We were fortunate with this hard to see wren in that they were usually along the Sendero Ka Chunga and were tempted to show by the livelier species in the mixed flocks. We only saw them at the Gamboa.
Rufous-breasted Wren Thyrothorus rutilus*
Seen frequently around the Gamboa trails.
Rufous & White Wren Thryrothorus rufalbus*
Seen and heard frequently around the Gamboa trails.
Buff-breasted Wren Thryothorus leucotis*
Present at a couple of spots around the Gamboa grounds, easy to see at Chunga Marsh in the roadside corner.
Plain Wren Thyrothorus modestus*
Fairly common.
House Wren Thyrothorus aedon*
Common.
White-breasted Wood-Wren Henichorina leucosticta*
Heard more than seen but we did see them a couple of times at the Gamboa.
Song Wren Cyphorhinus phaeocephalus
This characterful wren was seen well from the trails of the
Rainforest
Discovery
Center
on 18-Dec. We played it a bit of song and responded with a concert! The next day we located more, this time at the Gamboa along the Sendero La Chunga where we got a repeat performance but with a different tune!




Tropical Gnatcatcher
Polioptila plumbea
Seen at Metropolitan Park, Dec-15 and Pipeline Road, 18-Dec.
Clay-colored Thrush Turdus Grayi*
Common.
Tropical Mockingbird Mimus gilvus*
Common
Golden-winged Warbler Vermivora chrysoptera*
Not uncommon, seen regularly around the Gamboa. A couple were at Metropolitan Park, 15-Dec, one was at Cerro Azul, 17-Dec.
Tennessee Warbler Vermivora peregrina*
Several seen, commonest at Cerro Azul.
Yellow Warbler Dendroica petechia*
Common
Chestnut-sided Warbler Dendroica pensylvanica*
Common. One bird at the Gamboa retained full but bleached summer plumage.
Magnolia Warbler Dendroica magnolia*
One, Gamboa, 16-Dec.
Yellow-rumped Warbler Dendroica coronata
One, Cerro Azul, 17-Dec.
Black-throated Green Warbler Dendroica virens*
Three seen, one each at the Gamboa and Pipeline Road and a male at Cerro Azul which could not have been in fresher breeding plumage if it had been in our Canadian garden in May!
Blackburnian Warbler Dendroica castanea
One at Cerro Azul.
Blackpoll Warbler Dendroica striata*
One was at Gamboa on 14-Dec, watched for several minutes as it foraged alone in streamside vegetation. As we neared the end of the tour of Metropolitan Park we chanced upon a mixed flock with another. It was only when Jose told me it was rare in Panama that I looked in the books, perhaps its not so rare now but there is no up to date reference as far as I know
Black & White Warbler Mniotilta varia*
Common, seen most places.
American Redstart Setophaga ruticilla
One, Cerro Azul.
Prothonotary Warbler Prothonotaria citrea*
Common where the woods meet the wet. We had not seen this beautiful warbler since 1997 and so it was a pleasure to re-aquaint ourselves, they glow.
Worm-eating Warbler Helmitheros vermivorum
During a period of flock action part way up the Mono Titi trail at Metropolitan Park, one of the flock members was a very smart Worm-eating Warbler.
Northern Waterthrush Seiurus Noveboracensis*
Common and seen daily around the Gamboa.
Canada Warbler Wilsonia Canadensis
One was seen at Metropolitan Park, 15-Dec.
Bananaquit Coereba flaveola*
Not very common or perhaps not very visible. We saw them around the Gamboa and at Cerro Azul.
Rosy Thrush-Tanager Rhodinocichla rosea
We had excellent views of a singing male at the start of the Mono Titi trail at Metropolitan Park on 15-Dec. Others were heard but we never saw any more.
Grey-headed Tanager Eucometis penicillata*
Fairly common, we saw them along the Pipeline Road and around the Gamboa.
White-lined Tanager Tachyphonus rufus
Seen on the Pipeline Road, 14-Dec.
Crimson-backed Tanager Ramphocelus dimidiatus*
Common, we saw them everywhere. We also saw birds at the Gamboa that looked like Passerini's Tanager, all black with a scarlet rump but you don't get them there so I'm not sure what they were, I should have photographed one!
Flame-rumped Tanager Ramphocelus flammigerus*
These have yellow rumps and are common at the Gamboa. Note to file, if the species describer is color blind let someone else fill in the details!
Blue-gray Tanager Thraupis episcopus*
Common
Palm Tanager Thraupis palmarum*
Common
Golden-hooded Tanager Tangara larvata*
Common
Speckled Tanager Tangara guttata
Seen at Cerro Azul on 17-Dec, a spectacular tanager.
Plain-colored Tanager Tangara inornata*
Common and not as dull as the name suggests.
Bay-headed Tanager Tangara gyrola
Seen at Cerro Azul, 17-Dec.
Emerald Tanager Tangara florida
Seen at Cerro Azul, 17-Dec, very smart.
Scarlet-thighed Dacnis Dacnis venusta
Seen at Cerro Azul, 17-Dec.
Blue Dacnis Dacnis cayana*
Common.
Green Honeycreeper Chlorophanes spiza*
Present at the Gamboa and seen at a couple of other sites.
Shining Honeycreeper Cyanerpes lucidus
One on the Old Gamboa Road before Summit Ponds, 15-Dec.
Red-legged Honeycreeper Cyanerpes cyaneus*
Common
Streaked Saltator Saltator striatipectus*
Seen at the Gamboa only, always around the Reptile House.
Buff-throated Saltator Saltator maximus*
Common
Blue-black Grassquit Volatinia jacarina
Seen at Cerro Azul, 17-Dec.
Slate-colored Seedeater Sporophila schistacea
Seen at Metropolitan Park, 15-Dec, quite a distinctive high pitched call.
Variable Seedeater Sporophila Americana*
Common in open country, very variable.
Thick-billed Seed-Finch Oryzoborus funereus
One near Summit Ponds, 15-Dec.
Yellow-faced Grassquit Tiaris Olivaceous
Seen only at Cerro Azul, 17-Dec.
Orange-billed Sparrow Arremon aurantiirostris
Heard a few times around Metropolitan Park but no show.
Black-striped Sparrow Arremonops conirostris*
Seen Cerro Azul, 17-Dec and around Gamboa behind the reptile house.
Hepatic Tanager Piranga flava*
Several at Cerro Azul, 17-Dec, one, a male, at Gamboa, 19-Dec.
Summer Tanager Piranga rubra*
Common.
Red-throated Ant-Tanager Habia fuscicauda*
Common at forest sites including Gamboa.
Blue-black Grossbeak Cyanocompsa cyanoides
Seen at Metropolitan Park, 15-Dec and around the Rainforest Discovery Center trails, 18-Dec.
Great-tailed Grackle Quiscalus mexicanus*
Common in open areas.
Yellow-backed Oriole Icterus chrysater
Heard at Metropolitan Park, 15-Dec but not tracked down.
Yellow-tailed Oriole Icterus mesomelas*
Common at the Gamboa, a smart oriole.
Baltimore Oriole Icterus galbula*
Three, Gamboa 13-Dec.
Yellow-billed Cacique Amblycerus hoiosericeus
Seen along the Pipeline Road on each visit but shy.
Scarlet-rumped Cacique Cacicus uropygialis*
Common.
Yellow-rumped Cacique Cacicus cela*
Common
Chestnut-headed Oropendola Psarocolius wagleri*
Not rare but not as easy to see as some oropendolas.
Yellow-crowned Euphonia Euphonia luteicapilla
Seen only at Metropolitan Park, 15-Dec.
Thick-billed Euphonia Euphonia lanirostris*
Common.
Fulvous-vented Euphonia Euphonia fulvicrissa
Seen at Summit Ponds and Pipeline Road.
Tawny-capped Euphonia Euphonia anneae
Seen at Cerro Azul only on 17-Dec.
Birds missed: Lots. Several other trip reports have species seen at the Gamboa that we could not find and, obviously, there are many more species in the canal area and other local sites that we never came across. Some species had obviously not yet arrived from their northern breeding grounds, for example we saw no northern vireos.
Next time: The Pipeline Road needs more visits and you need to go deeper and the regular Canal Zone sites need a visit, the Old Gamboa Road, Ammo Dumps Ponds, Summit Park etc. It would also be nice to visit the Achiote Road, what is left of Tocumen Marsh and also some more coastal areas for high tide roosts. It would be nice to do more night work to try to connect with owls, nightjars, nighthawks and animals and then there is the Canopy Lodge area. At some point, of course, the Darien area also beckons.
Animals etc.
The systematic list of mammals follows Fiona A Reid's 'A Field Guide to the Mammals of Central American and Southeast Mexico' We saw many Green Iguanas, little lizards, house geckos, tons of butterflies and dragonflies. We saw one Tarantula sp crossing the road near Cerro Azul, it was about the size of a sheep.
Common Opossum Didelphis marsupialis
One was seen on each night drive at the Gamboa.
Central American Woolly Opossum Caluromys derbianus
One seen on the first night drive at Gamboa.
Northern Tamandua Tamandua mexicana
One high in the crown of a tree in Metropolitan Park, 15-Dec.
Hoffmann's Two-toed Sloth Choloepus hofmanni
One along the Pipeline Road, 13-Dec, one in Metropolitan Park, 15-Dec.
Brown-throated Three-toed Sloth Bradypus variegates
Lounging lumps were seen at the Gamboa, Cerro Azul and the Rainforest Discovery Center.
Geoffroy's Tamarin Saguinus geoffroyi
When we missed these in Metropolitan Park (Mono Titi is the Panamanian name for them) we thought we'd blown it but we found a group along the Sendero La Laguna on 16-Dec.
White-faced Capuchin Cebus capucinus
Seen briefly from the trails at the Rainforest Discovery Center on 18-Dec, an ugly monkey.
Mantled Howler Alouatta palliata
Heard daily, a few were seen from the van on the way back from Cerro Azul.
Variegated Squirrel Sciurus variegatoides
Common.
Red-tailed Squirrel Sciurus granatensis
Common.
Alfaro's Pygmy Squirrel Microsciurus alfari
On the White-tipped Sicklebill hike at Cerro Azul we saw a tiny squirrel, took its photo and identified it later.
Capybara Hydrochaeris hydrochaeris
Common at the Gamboa. Seen most days and on each night drive.
Central American Agouti Dasyprocta punctata
Common, seen daily in numbers.
White-nosed Coati Nasua narica
Common, seen most days.
Jaguarundi Herpailurus yaguarondi
While birding the Sendero La Chunga we had a ground bird scrabbling away in the vegetation and were focussed on it. I happened to look along the track and saw a low crouching, long thin dark cat with a distinctive small head and long tail. It crossed the track quickly allowing a full view but too quick for Sandra to get onto. It moved on the horizontal plane and did not bound like a domesticated cat. I'm 100% sure it was a Jaguarundi.
Collared Peccary Tayassu sajacu
We disturbed a foraging group along one of the trails at the Rainforest Discovery Center, 18-Dec.
White-lipped Peccary Discotyles pecari
One was seen at the Gamboa on a night drive.

Mark Dennis
DennisM@videotron.ca