Birdwatching in Pampa Hermosa, Junin Department, Peru
5 – 10 October 2004
by Frédéric Bédard (Frederic.bedard@statcan.ca)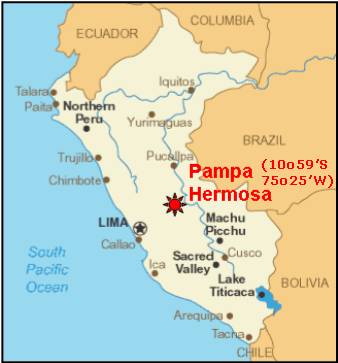 Click Here for a Map of Pampa Hermosa, trails and sites visited
While preparing for my second visit to Peru, I searched for a destination not too far from Lima (where I came to work for a week) for a birdwatching trip of around 5 days. Gunnar Engblom, from Kolibri Expeditions, suggested Pampa Hermosa ), in Junin department, that can be reached within a day by car from Lima. It is a very promising site that has been visited very few times by birdwatchers. It is located on the eastern slope of the Andes, at an average elevation of 1250 meters. The species list of the area includes only about 110 species so far, but with a great potential to add more.
After negotiating with Mr. Engblom, he arranged transportation to the site for me with one of the guides that he is training, Juan José Chalco. Usually I do not do any birdwatching with guides, even in foreign countries, because I like to find the birds and identify them by myself. But Juan José, with only 2 years of experience, was also exploring, so we had very interesting discussions at the end of each day with our notepads and field guides.
Please refer to the annexed maps to help follow the described itineraries. The access road, trails and some points are depicted with GPS data, but often, high relief did not allow the GPS to "see" enough satellites in the sky at the same time to be able to acquire data. Maps should then be used with caution, because some indications of altitude, distance and routes are approximate. The background was built using elevation data from the SRTM (Shuttle Radar Topographic Mission, srtm.usgs.gov). The database had some gaps in our area of interest, so interpolation was used to have a complete coverage.
DAY 1
To reach Pampa Hermosa, we had to follow the "Carretera central" (Central Highway), that crosses the country from Lima going East. The distance between Lima and San Ramon, the closest town to Pampa Hermosa, is 330 kilometres. From there it was necessary to drive a gravel road for another 24 kilometres (4WD required). From Lima, the road gradually ascends along the Rimac River, and climbs steadily for 125 kilometres. The road was very scenic, and when we reached the pass, at an elevation of 4800 meters, we were surrounded by high mountains covered with snow: enough to take your breath away (both because of the scenery and the lack of oxygen!). Expect 8 hours from Lima for the whole trip (which includes one and a half hours for the unpaved section).
We began the gravel section at dusk. We did see a few birds along the way, but our priority was to reach the lodge as soon as possible after a very long day. With just a bit of light left, a was nightjar flushed from the road. A few moments later, another one! But this one had a very long split tail: a Lyre-tailed Nightjar ! (Uropsalis lyra).
We were welcomed at the lodge with an excellent meal, and the locals recommended to us the possible areas for birdwatching. We planned the four full days we would be staying there.
For every full day spent in the area, I give my three or four favourite sightings. It was either an uncommon bird, or just because we had an excellent look at that bird.
DAY 2
We had breakfast every morning at 6:00, and left between 6:30 and 7:00. A few minutes before 6:00, we got very excited hearing our first birds... but also a few drops of rain... it IS called rainforest after all! Nonetheless, we got out and found our first birds around the cabins and the dining room (which is an open shelter). Juan José brought me to a lookout over the River Ulcamayo, and we found a family of Torrent Ducks (Merganetta armata) – male, female and 2 immatures. We also saw a Black Phoebe (Sayornis nigricans). We returned to the shelter as it was pouring, but while we were having breakfast in the sheltered area, we still got a good look at a few birds: Blue-necked Tanager (Tangara cyanicollis) - the most common tanager in forest here, Dusky-green Oropendola (Psarocolius atrovirens), Streaked Flycatcher (Myiodynastes maculatus), the famous Andean Cock-of-the-Rock (Rupicola peruviana) (common here), and a Green Hermit (Phaethornis guy), that was feeding every 10 minutes at flowers around the shelter. It was accompanied by a Pale-throated Barthroat (Threnetes leucurus), the only one of the trip, and by a Fork-tailed Woodnymph (Thalurania furcata).
Shortly after 7:00 AM, the rain stopped but the sky was still threatening. We packed our backpacks and waited a few minutes in the parking lot, which proved to be an excellent site! A young guy by the name of Juan José (him too!!) followed us to show trails and help locate birds. We spent 45 minutes here with birds all around us. We could identify: Variable Antshrike (Thamnophilus caerulescens), Marble-faced Bristle-Tyrant (Phylloscartes ophthalmicus), Lemon-browed Flycatcher (Conopias cinchoneti), Golden-crowned Flycatcher (Myiodynastes chrysocephalus), Orange-bellied Euphonia (Euphonia xanthogaster), Bluish-fronted Jacamar (Galbula cyanescens), Olivaceous Woodcreeper (Sittasomus griseicapillus), and a large bird of prey, that we later identified as a Solitary Eagle (Harpyhaliaetus solitarius). Of course, some of the sightings were poor and lots of birds remained unidentified, but I expected that on only my second visit to Peru.
We finally started to walk on the main road to San Ramon. On the first stretch, a Ruddy Quail-Dove (Geotrygon montana) quickly crossed the road, but a Buff-rumped Warbler (Basileuterus fulvicauda) gave us a more enjoyable display. Even in the shadow, the rump was flashing like a light bulb. The remainder of the first climb was quiet, until we reached a more open area with a few houses (Nueva Italia), where we discovered the common species of this habitat: Southern House-Wren (Troglodytes musculus), Silver-beaked Tanager (Ramphocelus carbo), Blue-grey Tanager (Thraupis episcopus), Common Tody-Flycatcher (Todirostrum cinereum), Bananaquit (Coereba flaveola), Slate-throated Redstart (Myioborus miniatus), Olivaceous Siskin (Carduelis olivacea) and Cinnamon-faced Tyrannulet (Phylloscartes parkeri), a species discovered in the 1980's.
A few houses beyond, we found enormous trees filled with tiny flowers, where dull-coloured hummingbirds were continuously present. On the other side of the road, dense bushes attracted Cabanis' Spinetail (Synallaxis cabanisi), Plain-crowned Spinetail (Synallaxis gujanensis) and Stripe-chested Antwren (Myrmotherula longicauda). Over our heads, in the foliage of taller trees, we observed Blue Dacnis (Dacnis cayana), a pair of Black-faced Dacnis (Dacnis lineata), an Olive Tanager (Chlorothraupis carmioli) and an Orange-fronted Plushcrown (Metopothrix aurantiacus), a bird that was not supposed to be found at this elevation (1300 m).
We got a short break, until we reached a small creek, where we ran into a mixed flock. Once again we found a number of new birds: Magpie Tanager (Cissopis leveriana), Dusky-capped Flycatcher (Myiarchus tuberculifer), Buff-throated Foliage-Gleaner (Automolus ochrolaemus), Grey-mantled Wren (Odontorchilus branickii), Buff-throated Saltator (Saltator maximus), Streaked Xenops (Xenops rutilans) and the colourful Bay-headed Tanager (Tangara gyrola). A gentle slope in the road lead to the football field (soccer), where the sun appeared and hit us pretty hard. We sat in the shade of a building, had a snack and enjoyed a view of a Squirrel Cuckoo (Piaya cayana), Paradise Tanager (Tangara chilensis) and Tropical Parula (Parula pitiayumi).
Our notepads well filled, we came back to the lodge for lunch. In 4 hours and a half, we covered only 1.4 km of the access road!
The afternoon was a lot more quiet. First, close to the dining room, with the heat and bright sun of midday, a few tanagers made their way along the clearing: White-winged Tanager (Piranga leucoptera) and Yellow-throated Bush-Tanager (Chlorospingus flavigularis) were the new species. And from the parking lot, this time we added Golden-eared Tanager (Tangara chrysotis). Then we walked down to Chavez bridge (very impressive), with very few birds. The only new additions were Three-striped Warbler (Basileuterus tristriatus), Blue-and-white Swallow (Notiochelidon cyanoleuca) and Southern Rough-winged Swallow (Stelgidopteryx ruficollis). Again, a few hummingbirds, but try to name them...
We worked very hard in the evening to identify all of those birds: 58 species were identified (25 life birds for me!)
Birds of the day were:
Orange-crowned Plushcrown (Metopothrix aurantiacus)
Buff-rumped Warbler (Basileuterus fulvicauda)
Pale-throated Barbthroat (Threnetes leucurus)
<>
DAY 3
To begin the day, we again walked to the nice lookout over the river near the lodge, where we added a pair of White-capped Dippers (Cinclus leucocephalus) and a pair of Torrent Tyrannulets (Serpophaga cinerea).
Even though the last section of the road offered us good sightings the previous day, we decided to bird another section of the road (starting at km 21.6, going down). Waiting for my colleagues at the parking lot, I observed a magnificent Highland Motmot (Momotus aequatorialis).
The morning started very slowly... to begin with. After a first section noting only common species, a pair of toucans flew over us and landed in a tree with dense foliage. Juan José managed to see the bill pretty well, enough to confirm Chestnut-tipped Toucanet (Aulacorhynchus derbianus), an uncommon bird. Trying to follow them, I added a Plumbeous Pigeon (Columba plumbea). At about the same time, a small flock of euphonias was passing, in which we identified a pair of Bronze-green Euphonias (Euphonia mesochrysa).
Going down a forested area, we noted a flowering tree that a few hummingbirds seemed to appreciate. For the first time, I managed to identify a female Wire-crested Thorntail (Popelairia popelairii), with their distinct white patches. We saw many other birds of that species later in the trip.
At the bottom of the hill, the road was still high over the river and offered great views. A few raptors flew over: Roadside Hawk (Buteo magnirostris), another Solitary Eagle (Harpyhaliaetus solitarius), Swallow-tailed Kite (Elanoides forficatus) and Turkey Vulture (Cathartes aura). Butterflies were numerous with an amazing variety of colours and sizes. They usually gathered beside water on the road. Shortly after, along a small valley, an Olivaceous Flatbill (Rhynchocyclus olivaceus) was singing and seemed to be on territory.
At 11:30 AM, the road brought us to a high and gorgeous narrow waterfall, a nice spot for a break. This was where we decided to return. A high cliff was right beside us, and we observed a flycatcher on the top a dead tree: of course, it was the Cliff Flycatcher! (Hirundinea ferruginea). This morning, we walked about 3 km (to km 18.6), but with less birds that the previous morning.
On the way back, at the beginning of the hill going up, we started to notice some movement. Here was one bird... and another one... oh look here!... and suddenly they were all over the place! We spent an entire hour without moving one inch and identified about 18 species (plus several unidentified!). It was the most thrilling moment of my trip, and best of all it was at noon, normally a pretty quiet time of day for birding. New birds were the colourful Versicolored Barbet (Eubucco versicolor), the Ocellated Piculet (Picumnus dorbygnianus), a Little Woodpecker (Veniliornis passerinus), a Palm Tanager (Thraupis palmarum), a pair of Purple Honeycreeper (Cyanerpes caeruleus), and finally, right beside each other, the similar Spotted Tanager (Tangara punctata) and Yellow-bellied Tanager (Tangara xanthogastra), the latter not supposed to be found at this elevation (1175 m). We could see each individual feather of this bird, it was a very delightful moment.
We finally got back for a late lunch (for Canadians!) at 2 PM, which left us a limited amount of time for the afternoon. We found a trail from the access road in the middle of the first curve (km 23.6). After a few minutes going down, it leads to a nice waterfall, that became quite spectacular the closer we approached. During the walk, a small green toucan landed on a branch in front of me, and this time it was the Black-throated Toucanet (Aulacorhynchus atrogularis). A few tanagers were also found in the clearing at the beginning of the trail.
The light started to drop as we went back to the road. We quickly finished climbing the S-shaped hill to reach a more open area where the remaining light gave us a few more minutes for birding. A bright green bird crossed the road in front of me and I noticed where it landed. When I was able to put the telescope on it, I could not believed I was seeing so many bright colours on the same bird. The body was "parrot-like" green, with a red throat, dark orange ears, bright orange rump and crest, with a blue belly. It was the Orange-eared Tanager (Chlorochrysa calliparaea). We thank him for having stayed so long on the same twig! With barely enough light to see in our binoculars, we added our last birds of the day, a family of White-winged Becards (Pachyramphus polychopterus), at the same location.
Our list for the day was 61 species, and the birds of the day were :
Orange-eared Tanager (Chlorochrysa calliparaea)
Yellow-bellied Tanager (Tangara xanthogastra)
Chestnut-tipped Toucanet (Aulacorhynchus derbianus)
<>
DAY 4
Today, we have decided to leave for the day with a lunch bag, so we would not have to come back at the lodge at mid-day. Our destination was the Pampa Hermosa Reserve, hosting some virgin primary forest about one and a half hours walk from the lodge.
During breakfast, we were interrupted by the staff from the kitchen that wanted to show us a bird visible from their window: good thing, it was our first Amazonian Umbrellabird (Cephalopterus ornatus): a female. Females of that species outnumber males by a factor of about twenty!
We decided to rush to Chavez bridge and bird on unfamiliar habitat during the best time of the day. Even on a fast pace, I spotted a dark bird on the trail at about 15 meters away. Without too much light, I could still detect a dark green body, a dark grey face and a dark reddish crown: it was a dark bird all right!! That bird was an Olive Finch (Lysurus castaneiceps), an uncommon and elusive bird.
On the other side of the bridge, we began a gentle climb, that got steeper and steeper... so steep that it became impossible to settle my telescope on the ground. The climb was exciting as many birds were active. Unfortunately, most of them remained unidentified!!! I saw a hummingbird with a green back and a white breast with green spots: it was a female of the Violet-crowned Brilliant (Heliodoxa leadbeateri). The Montane Foliage-Gleaner (Anabacerthia striaticollis) was our only other (confirmed) addition during the climb.
Very suddenly, the trail brought us to some flat terrain, which was very surprising in the middle of the Andes!! The forest was gorgeous, rich with very tall trees. Our local guide detected calls from monkeys, that we were able to observe very well a few minutes later (species to be confirmed). There were also a lot of birds in the forest, but they remained high in the foliage or low in the dense underbrush, therefore very hard to spot and identify. We were a little disappointed because our list was not growing... A birdwatcher familiar with songs and calls would probably build a quite impressive list here. We spent some time climbing lianas and walking around giant trees. The bird we saw the most here was the Andean Cock-of-the-rock (Rupicola peruviana), about ten of them observed in less than two hours.
We stopped for a break and snack at another giant tree, and could finally spot some birds high in the trees. First, two splendid tanagers: Golden Tanager (Tangara arthus) and Blue-browed Tanager (Tangara cyanotis): real jewels on a rich green background. The blue-browed is quite rare, and has some turquoise-bluish colour on the underparts, a colour rarely seen on a bird.
After a short walk back, we heard calls that I thought came from toucans. We all got excited and spent a few minutes trying to detect some movement in the foliage. I finally spotted the author in the telescope for just a few seconds... enough to identify the Black-mandibled Toucan (Ramphastos ambiguus), a species not known to be found south of Huanuco.
During the descent, we got just a few more additions, but very interesting ones. During the climb, I had just barely seen it, not enough to confirm it; but this time, it did not escaped as fast! It was the Creamy-bellied Antwren (Herpsilochmus motacilloides), an endemic bird restricted to the departments of Cusco and Junin! Just a few minutes later, another uncommon bird perched less than 3 meters over our head, a Lanceolated Monklet (Micromonacha lanceolata). Finally, a white-bellied hawk flew high over the valley, a Short-tailed Hawk (Buteo brachyurus).
Back to the trail along the river, we decided to go upstream along the trail that leads to the high plateau at 2000 meters of elevation. We only walked the first 3 km from the bridge. On the way, we stopped to eat our sandwiches. We were "disturbed" a few times by a pair of elusive birds low in the dense bushes. After a few minutes, I got to see both the male and the female of what was a pair of Blackish Antbird (Cercomacra nigrescens). A Dull-colored Grassquit (Tiaris obscura) was noted at the same location.
Even though birds were scarce, the trek was very enjoyable for the scenery. At one point, the trail crosses a high cliff a few dozen meters high, thanks to hard-working residents of the area that carved a passage across it. A few minutes before we came back, we noted a tyrannulet-kind of bird, and realised that evening that it had tawny wingbars (thanks to Juan José who made the remark!): it was a Variegated Bristle-Tyrant (Phylloscartes poecilotis).
We finished the day with 50 species, and only 149 identified individuals.
Four birds of the day for today!
Blue-browed Tanager (Tangara cyanotis)
Black-mandibled Toucan (Ramphastos ambiguus)
Creamy-bellied Antwren (Herpsilochmus motacilloides)
Lanceolated Monklet (Micromonacha lanceolata)
<>
DAY 5
After breakfast, waiting for the "Juan José's" at the parking lot, I had two new flycatchers: a Yellow-bellied Elaenia (Elaenia flavogaster) and a Boat-billed Flycatcher (Megarhynchus pitangua). For our last complete day in Pampa Hermosa, we decided to bird another section of the access road to San Ramon, and drove about 30 minutes from the lodge (we walked approximately from km 18.0 to 15.6). A few minutes before we stopped, we were forced to park on the side to let another vehicle go up the road. While we waited, we saw our only 2 Inca Jays (Cyanocorax yncas) of the trip. In addition, Juan José spotted 2 parrots eating fruits in a tree down below. We identified them as the Scaly-naped Parrot (Amazona mercenaria).
After leaving the vehicle, we heard strange calls coming from different directions, that we figured were those of Russet-backed Oropendolas (Psarocolius angustifrons). This section of the road was not as productive, as it crosses mainly semi-open habitats. We still added at least three unidentified birds. We came back quickly to bird the opposite section of the road where we parked the car, but birding was still slow, though habitats were more appealing.
We came back to the lodge not too satisfied with our species list. In the afternoon, we went back to the trail heading for Chavez bridge, that was quite active on the last day. Just before the final drop to the bridge, the trail crosses some low and dense bushes that had a good number of birds. For instance, a flycatcher that we observed for quite a long time, that Juan José identified as a Roraiman Flycatcher (Myiophobus roraimae), but for which I did not commit myself, even though we saw the bird quite well.
I decided to walk alone the first section of a trail that climbs the hillside. Nothing new, but I saw again three interesting species: a pair of Blackish Antbirds (Cercomacra nigrescens), a Variegated Bristle-Tyrant (Phylloscartes ophthalmicus) and an Olive Finch (Lysurus castaneiceps).
On the way back, I met my friends at the same section we stayed at for a while earlier, and there we had our bird of the day: a very close Chestnut-backed Antshrike (Thamnophilus palliatus). Meanwhile, Juan José added a Chestnut-crowned Gnateater (Conopophaga castaneiceps).
While daylight was declining, we waited at a large flowering tree where we had observed a few hummingbirds before. There Juan José used his video camera to catch a few scenes of birds he will try to identify later. Just before we were forced to head back to the lodge because of dusk, we saw just over our heads the astounding silhouette of our first male of Wire-crested Thorntail (Popelairia popelairii), a beauty! We could also hear calls from the Andean Cock-of-the-Rock (Rupicola peruviana) lek nearby.
Total species for the day was 58.
Birds of the day were:
Chesnut-backed Antshrike (Thamnophilus palliatus)
Wire-crested Thorntail (Popelairia popelairii)
Chestnut-crowned Gnateater (Conopophaga castaneiceps)
<>
DAY 6
That day we had to head back to Lima. We left for the day at 7:00 AM, but promised we would reserve some time to make a few stops on the way down where we still had not explored. The first stop was at that same fruit trees we had parrots the day before, and this time it was filled with a flock of Mitred Parakeets (Aratinga mitrata).
After a few kilometres, we lost elevation and reached 1000 meters, with different habitats (generally more open), and we easily found a few new species. A Golden-bellied Grosbeak (Pheucticus chrysogaster) was noticeable on top of a fruit tree near a small dwelling. We stopped at a small stand of bamboo that Juan José spotted on the way up a few days ago. Our only addition was a Long-tailed Tyrant (Colonia colonus), which was worth the stop!
Then, stopping again randomly, we added a Greyish Saltator (Saltator coerulescens) right by its cousin the Buff-throated Saltator (Saltator maximus), and a few Social Flycatchers (Myiozetetes similis). At the large bridge at km 5, we added Olivaceous Cormorant (Phalacrocorax brasilianus), Spotted Sandpiper (Tringa macularia) and a Yellow-rumped Cacique (Cacicus cela).
We arrived in San Ramon at 10:00 AM, and had to say goodbye to the gorgeous Ulcamayo Valley. From a gas station, we found some of the common birds of the city: Grey-breasted Martin (Progne chalybea) and House Sparrow (Passer domesticus). A few birds of prey and vultures were soaring high in the sky. Then, we hit the road and climbed back down the Andes to end our trip.
CONCLUSION
The number of species identified in the Ulcumayo Valley during a little more than 4 days was 114. The checklist for the site grew from 110 to 155 bird species. Birdwatchers familiar with Peruvian birds would certainly add more species, especially those knowing songs and calls. Gunnar Engblom proposed to provide the lodge with hummingbird feeders in the near future, which will help greatly in identifying those diminutive (and often hard to identify) birds.
Birdwatchers looking for species residing in the eastern foothills of the Andes will be very pleased. Elevations vary from 850 m in San Ramon to 1650 in the Pampa Hermosa Reserve, with an elevation of 1250 m at the lodge. Another zone can be reached at an altitude of 2000 m by walking 5 hours from the lodge (one way). There were very few biting insects, and I was told that malaria was not a problem here, but it is still recommended to wear pants (we have seen one snake) and long-sleeved shirts. Hiking and/or rubber boots are recommended as well. It is an easy walk along the access road, but trails have some fairly steep sections. Cabins are very comfortable and meals are excellent, cooked with local products. Treated water is available on demand. The lodge does not supply birding guidance, so you have to be on your own, or hire a guide from an outside agency. Some guides from Kolibri Expeditions have visited the area, and the bird list is available at Birding-Peru web site.
CHECKLIST
| | | | | | | | |
| --- | --- | --- | --- | --- | --- | --- | --- |
| English Name | Scientific Name | 05-Oct | 06-Oct | 07-Oct | 08-Oct | 09-Oct | 10-Oct |
| Great Egret | Casmerodius albus | | | | | | 4 |
| Black-crowned Night-Heron | Nycticorax nycticorax | | | | | | 1 |
| Torrent Duck | Merganetta armata | | 4 | 4 | 4 | 4 | |
| Turkey Vulture | Cathartes aura | | 1 | 2 | | 1 | 4 |
| Swallow-tailed Kite | Elanoides forficatus | | 1 | 2 | 4 | 2 | |
| Solitary Eagle | Harpyhaliaetus solitarius | | 1 | 1 | | | |
| Roadside Hawk | Buteo magnirostris | | | 2 | | | 2 |
| Short-tailed Hawk | Buteo brachyurus | | | | 1 | | 1 |
| Spotted Sandpiper | Tringa macularia | | | | | | 1 |
| Rock Dove or Common Pigeon | Columba livia | | | | 2 | | 15 |
| Plumbeous Pigeon | Columba plumbea | | 1 | 1 | 1 | 2 | |
| White-tipped Dove | Leptotila verreauxi | | | | 3 | 4 | 4 |
| Ruddy Quail-Dove | Geotrygon montana | | 1 | | | | |
| Mitred Parakeet | Aratinga mitrata | | | | | | 20 |
| Scaly-naped Parrot | Amazona mercenaria | | | | | 2 | |
| Squirrel Cuckoo | Piaya cayana | | 2 | 2 | | 2 | |
| Smooth-billed Ani | Crotophaga ani | | | | | | 2 |
| Lyre-tailed Nightjar | Uropsalis lyra | 2 | | | | | |
| Green Hermit | Phaethornis guy | | 2 | 2 | | 1 | 1 |
| Wire-crested Thorntail | Popelairia popelairii | | | 1 | 1 | 3 | |
| Pale-tailed Barbthroat | Threnetes leucurus | | 1 | | | | |
| Fork-tailed Woodnymph | Thalurania furcata | | 1 | | 1 | 1 | |
| Violet-fronted Brilliant | Heliodoxa leadbeateri | | | | 1 | | |
| White-bellied Woodstar | Acestrura mulsant | | 1 | | | | |
| Highland Motmot | Momotus (momota) aequatorialis | | | 1 | 1 | | |
| Bluish-fronted Jacamar | Galbula cyanescens | | 6 | 1 | 1 | 3 | |
| Lanceolated Monklet | Micromonacha lanceolata | | | | 1 | | |
| Versicolored Barbet | Eubucco versicolor | | | 1 | 1 | | |
| Chestnut-tipped Toucanet | Aulacorhynchus derbianus | | | 2 | | | |
| Black-mandibled Toucan | Ramphastos ambiguus | | | | 1 | | |
| Black-throated Toucanet | Aulacorhynchus atrogularis | | | 1 | | | |
| Ocellated Piculet | Picumnus dorbygnianus | | | 2 | | | |
| Little Woodpecker | Veniliornis passerinus | | | 1 | 1 | | |
| Cabanis's Spinetail | Synallaxis cabanisi | | 1 | 1 | | 1 | |
| Plain-crowned Spinetail | Synallaxis gujanensis | | 3 | | | 1 | |
| Orange-fronted Plushcrown | Metopothrix aurantiacus | | 1 | | | | |
| Streaked Xenops | Xenops rutilans | | 1 | 3 | 1 | 2 | |
| Montane Foliage-gleaner | Anabacerthia striaticollis | | | | 2 | | |
| Buff-throated Foliage-gleaner | Automolus ochrolaemus | | 1 | 2 | | | |
| Olivaceous Woodcreeper | Sittasomus griseicapillus | | 3 | 2 | 3 | 1 | |
| Chestnut-backed Antshrike | Thamnophilus palliatus | | | | | 1 | |
| Variable Antshrike | Thamnophilus caerulescens | | 2 | | 1 | 1 | |
| Stripe-chested Antwren | Myrmotherula longicauda | | 4 | | | 2 | |
| Creamy-bellied Antwren | Herpsilochmus motacilloides | | | | 2 | | |
| Blackish Antbird | Cercomacra nigrescens | | | | 2 | 2 | |
| Amazonian Umbrellabird | Cephalopterus ornatus | | | | 2 | 2 | |
| Andean Cock-of-the-rock | Rupicola peruviana | | 6 | 4 | 10 | 2 | |
| Yellow-bellied Elaenia | Elaenia flavogaster | | | | | 1 | 1 |
| Torrent Tyrannulet | Serpophaga cinerea | | | 2 | | 1 | 2 |
| Marble-faced Bristle-Tyrant | Phylloscartes ophthalmicus | | 6 | 4 | 2 | 2 | |
| Variegated Bristle-Tyrant | Phylloscartes poecilotis | | | | 1 | 2 | |
| Cinnamon-faced Tyrannulet | Phylloscartes parkeri | | 3 | 4 | | | |
| Common Tody-Flycatcher | Todirostrum cinereum | | 4 | 1 | | 1 | 1 |
| Olivaceous Flatbill | Rhynchocyclus olivaceus | | | 1 | | 1 | |
| Roraiman Flycatcher | Myiophobus roraimae | | | | | 1 | |
| Cliff Flycatcher | Hirundinea ferruginea | | | 1 | 1 | 1 | |
| Black Phoebe | Sayornis nigricans | | 3 | | 1 | | 2 |
| Long-tailed Tyrant | Colonia colonus | | | | | | 1 |
| Dusky-capped Flycatcher | Myiarchus tuberculifer | | 2 | 3 | | | |
| Boat-billed Flycatcher | Megarhynchus pitangua | | | | | 1 | |
| Social Flycatcher | Myiozetetes similis | | | | | | 3 |
| Lemon-browed Flycatcher | Conopias cinchoneti | | 4 | 2 | | 2 | |
| Golden-crowned Flycatcher | Myiodynastes chrysocephalus | | 2 | 2 | 1 | | 1 |
| Streaked Flycatcher | Myiodynastes maculatus | | 1 | | 1 | | |
| Tropical Kingbird | Tyrannus melancholicus | | 3 | 3 | 2 | 3 | 5 |
| White-winged Becard | Pachyramphus polychopterus | | | 3 | | | |
| Grey-breasted Martin | Progne chalybea | | | | | | 5 |
| Blue-and-white Swallow | Notiochelidon cyanoleuca | | 40 | 30 | 30 | 20 | 50 |
| Southern Rough-winged Swallow | Stelgidopteryx ruficollis | | 1 | 1 | 1 | | |
| White-capped Dipper | Cinclus leucocephalus | | | 2 | | | |
| Grey-mantled Wren | Odontorchilus branickii | | 1 | 1 | | | |
| Southern House-Wren | Troglodytes (aedon) musculus | | 3 | 3 | 1 | 4 | 2 |
| Inca Jay | Cyanocorax yncas | | | | | 2 | |
| Red-eyed Vireo | Vireo olivaceus | | 3 | 1 | | 1 | |
| Tropical Parula | Parula pitiayumi | | 4 | 1 | | 3 | |
| Slate-throated Redstart | Myioborus miniatus | | 4 | 3 | 5 | 4 | |
| Three-striped Warbler | Basileuterus tristriatus | | 1 | 3 | 4 | 5 | |
| Buff-rumped Warbler | Basileuterus fulvicauda | | 1 | | | | |
| Bananaquit | Coereba flaveola | | 10 | 3 | 2 | 3 | 2 |
| Magpie Tanager | Cissopis leveriana | | 5 | | 2 | 1 | |
| Yellow-throated Bush-Tanager | Chlorospingus flavigularis | | 1 | 4 | 2 | | |
| Carmiol's Tanager or Olive Tanager | Chlorothraupis carmioli | | 1 | | | | |
| Yellow-crested Tanager | Tachyphonus rufiventer | | | 2 | | 1 | |
| White-winged Tanager | Piranga leucoptera | | 1 | | | 1 | |
| Silver-beaked Tanager | Ramphocelus carbo | 1 | 15 | 8 | 1 | 8 | 5 |
| Blue-grey Tanager | Thraupis episcopus | | 6 | 10 | 5 | 4 | 6 |
| Palm Tanager | Thraupis palmarum | | | 1 | | | |
| Bronze-green Euphonia | Euphonia mesochrysa | | | 2 | 1 | | |
| Orange-bellied Euphonia | Euphonia xanthogaster | | 2 | 3 | 1 | 2 | |
| Orange-eared Tanager | Chlorochrysa calliparaea | | | 1 | | 2 | |
| Paradise Tanager | Tangara chilensis | | 6 | 4 | | | 3 |
| Golden Tanager | Tangara arthus | | | | 1 | | |
| Golden-eared Tanager | Tangara chrysotis | | 1 | | 2 | 2 | |
| Yellow-bellied Tanager | Tangara xanthogastra | | | 1 | | | |
| Spotted Tanager | Tangara punctata | | | 2 | | 2 | |
| Bay-headed Tanager | Tangara gyrola | | 3 | 5 | 2 | 2 | |
| Blue-browed Tanager | Tangara cyanotis | | | | 1 | | |
| Blue-necked Tanager | Tangara cyanicollis | | 8 | 12 | 10 | 8 | |
| Blue-and-black Tanager | Tangara vassorii | | 1 | | | | |
| Black-faced Dacnis | Dacnis lineata | | 2 | 2 | | | |
| Blue Dacnis | Dacnis cayana | | 1 | | | | |
| Purple Honeycreeper | Cyanerpes caeruleus | | | 2 | | | |
| Dull-colored Grassquit | Tiaris obscura | | | 2 | 1 | 2 | |
| Olive Finch | Lysurus castaneiceps | | | | 1 | 1 | |
| Rufous-collared Sparrow | Zonotrichia capensis | | 3 | | | 2 | 15 |
| Greyish Saltator | Saltator coerulescens | | | | | | 1 |
| Buff-throated Saltator | Saltator maximus | | 1 | 1 | | 1 | 1 |
| Golden-bellied Grosbeak | Pheucticus chrysogaster | | | | | | 1 |
| Yellow-rumped Cacique | Cacicus cela | | | | | | 1 |
| Dusky-green Oropendola | Psarocolius atrovirens | | 20 | 30 | 20 | 10 | 3 |
| Russet-backed Oropendola | Psarocolius angustifrons | | | | | 10 | 2 |
| Olivaceous Siskin | Carduelis olivacea | | 8 | 4 | | 12 | 8 |
| House Sparrow | Passer domesticus | | | | | | 10 |
| | | | | | | | |
| | # Species | 2 | 58 | 61 | 50 | 58 | 36 |
| | # Individuals | 3 | 225 | 208 | 149 | 169 | 189 |
| | # Hours | 0.1 | 10 | 10 | 10 | 10 | 3.5 |
| | | | | | | | |